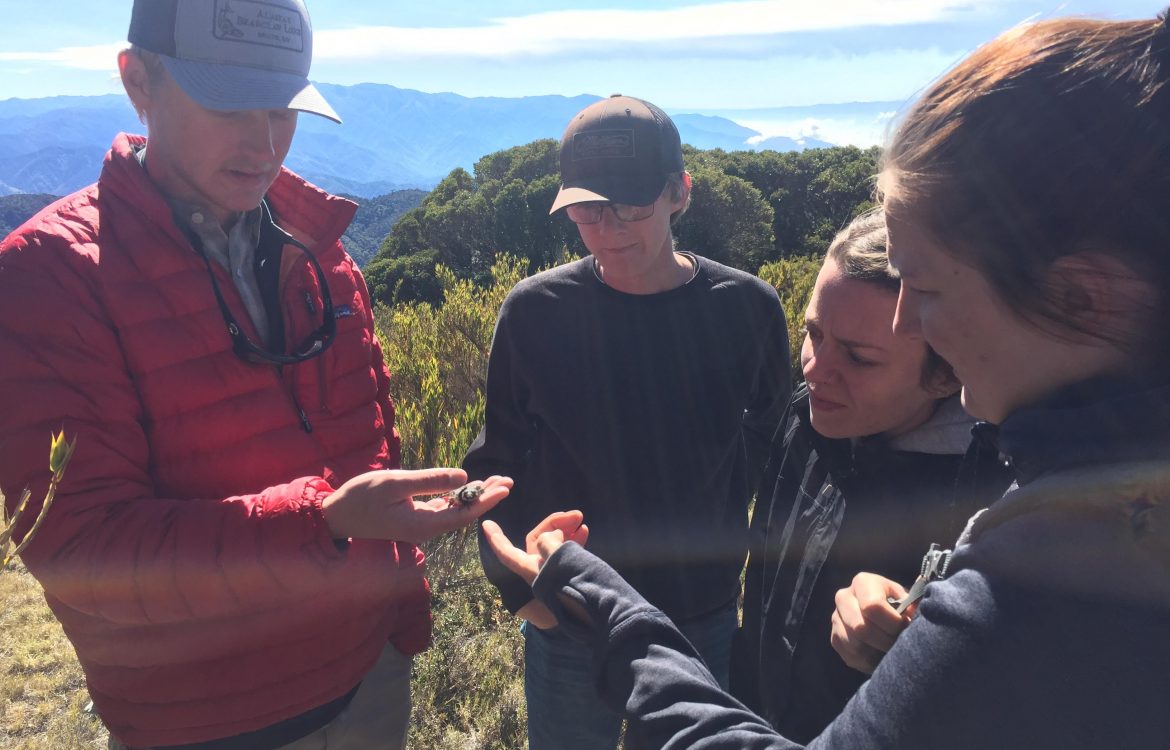 Tropical Field Research
3 Credit Hours
Undergraduate
English
In Tropical Field Research, you'll be asking questions like, "What are the altitudinal ranges of various butterfly species in the cloud forest?" and, "What is the preferred temperature and active body temperature of montane alligator lizards (Mesaspis monticoli)?" You'll be looking for the answers by putting the scientific method into practice.
ABOUT COURSE
This course is designed to guide students through the processes of planning, proposing, executing, and presenting a scientific research project. The research process is an integral experience in teaching science students how to implement the scientific method in order to answer a specific research question. By practicing the scientific method, students will gain an understanding of the research process and then present their findings to the local community, fellow students back on campus and hopefully additional venues.
COMMUNITY PRESENTATIONS
QERC places a strong emphasis on sharing the information that students and researchers find with the community living in the valley. Students put the Spanish skills that they have been practicing all semester to use in presenting their research in Spanish.
LEARNING OUTCOMES
Upon successful completion of the course, students will be able to:
Define a specific research question and develop a meaningful, testable hypothesis.

Prepare a literature review of background information relating to the research topic.

Design and carry out original research, applying concepts of data collection, hypothesis testing, data presentation and interpretation. Generate new knowledge that will become a resource for future students and researchers at QERC.

Prepare a manuscript reporting results of original research.

Work productively as part of a collaborative research team and as an independent researcher; maintain a positive social environment within the group when living and working in the field.

Present results of original research in both an oral and written professional format.

Understand the peer-review system for grants and publication of scholarly work.
HOW ARE PROJECTS ASSIGNED?
QERC faculty assign research projects to students based upon the interests that they report in the available projects. These are the steps that students can expect to be followed:
In October or November before the Spring semester, students are presented with a list of general topics that the research projects cover.

Students are asked to rank their project preferences, ranking at least three of the presented projects.

Using student preference rankings, QERC faculty assign students (usually in pairs) to research projects, making every effort to give students their first or second choice of projects. Normally, student research projects are carried out in groups of two.
HOW CAN STUDENTS EXPECT TO BE SUPPORTED IN THEIR PROJECTS?
While students do enjoy a large amount of independence in carrying out their research projects, they are not alone throughout the process. Students are assigned a mentor professor that is a specialist in the field of their research project. This professor, and the principle professor of Tropical Field Research, Dr. David Hoekman, will support the students in designing their research methodology, analyzing their data and writing their research paper. Normally, student research projects are carried out in groups of two.
Dr. Hoekman will make a plan together with the students at the beginning of the semester, where they determine when different components of the project will be completed.  During the semester students send weekly updates to Dr. Hoekman and their research advisor about their progress and how it relates to the original plan. A positive and flexible attitude is imperative because students will encounter the real-life challenges of field work, necessitating updates and modifications to the original plan. Additional meetings throughout the semester are scheduled periodically or as needed.
Meets SNU's Windows Component: Critical Thinking (if enrolled at beginning of semester)
SNU Course Number: BIOL-4003
Course Teachers
Associate Professor