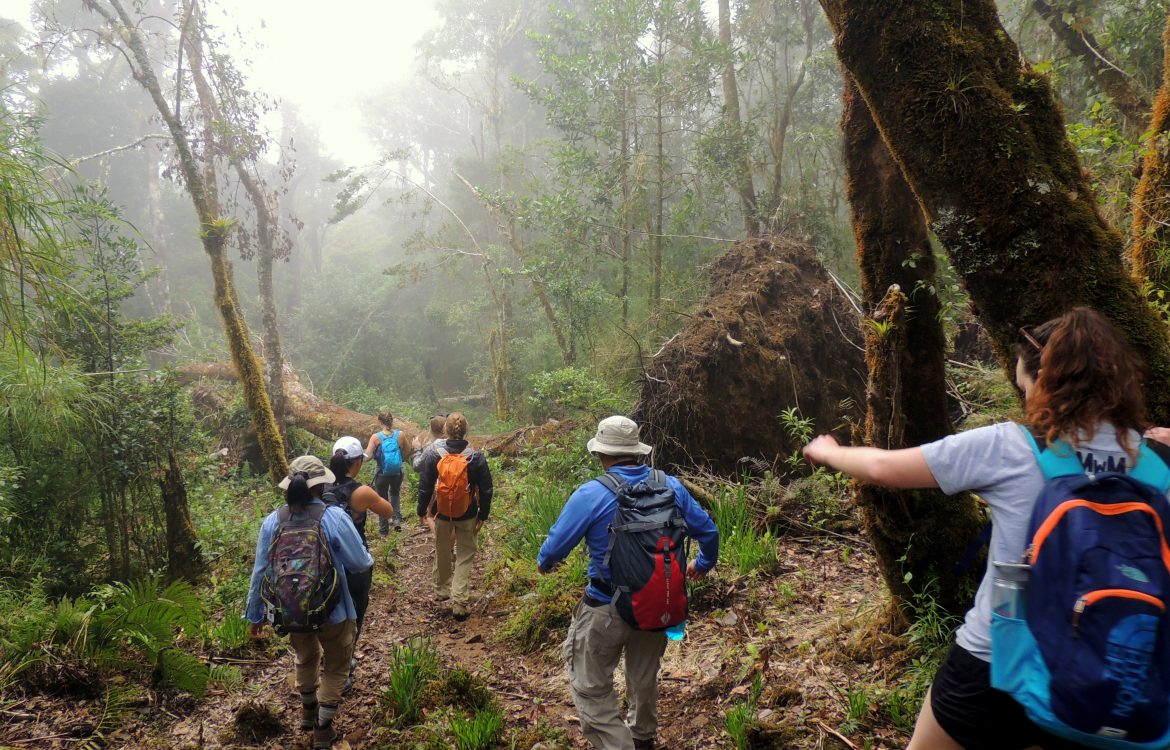 Tropical Ecology and Sustainability
5 Credit Hours
Undergraduate
English
Experience Tropical Ecology first hand. Learn about how biogeography develops the biomes that you're visiting and living in. See birds like the Anhinga (Anhinga anhinga) and Roseate Spoonbill (Platalea ajaja) in their natural wetland habitats.
ABOUT COURSE
Students will be introduced to an integrated study of the characteristics of the ecology of tropical latitudes and conservation issues confronting these habitats. Expert specialists within fields such as botany, ornithology, aquatic biology, microbial ecology, physical geography, and entomology will lead components at the QERC site as well as other locations in Costa Rica. As a mechanism for these studies students will travel through most of the tropical life zones in Costa Rica studying the ecological principles relevant to ecology in general and in the tropics specifically.  Students will learn the particular characteristics of Costa Rican biomes including the littoral biomes, lowland tropical rain- and dryland tropical forest, mid-elevation pre-montane and montane forests, paramos, wetlands, and mangrove forests.  Students will observe and study the ways that humans interact with nature within these biomes in both sustainable and non-sustainable ways.  Students will have an opportunity to analyze the viability of a variety of land-use strategies in light of conservation principles and the integration of Christian faith and ethic.
TRAVEL COMPONENTS
BIOME TOUR: The classroom hits the road with a 10 day tour of Costa Rica's diverse biomes including tropical rainforest, tropical dry forest, mangrove estuaries and a study of volcanology. See below for a map of the locations you'll be visiting. Locations are subject to change.


HACIENDA BARU: explore tropical lowland forest with emphasis on herpetology and mammalogy
CAPI: explore premontane wet forest with emphasis on ornithology and herpetology
All travel components are included in QERC's tuition and fees. 
LEARNING OUTCOMES
Upon successful completion of the course, students will be able to:
Describe the characteristics of the various tropical biomes and differentiate between them by identifying floral and faunal diversity and structure.

Articulate an understanding of tropical ecosystems as an interrelated set of cycles and systems (e.g. nutrient cycle, energy conversion cycle (trophic levels), carbon cycle, water cycle).

Articulate the characteristics of tropical forests that make them unique and distinguish them from temperate forests.

Describe the factors that shape and determine tropical weather patterns (e.g. temperature range (adiabatic lapse rate), precipitation, seasonality).

Demonstrate a general knowledge of neotropical animal species and plant families and particular knowledge of animal and plant species in the Upper Savegre Valley.

Articulate a basic understanding of the intricacies of coevolutionary development (e.g. quetzal and aquacatillo, bats and fruit pollination, mosquitoes and bot flies).
Meets SNU's Windows Component: Science and Technology (if enrolled at beginning of semester)
SNU Course Number: BIOL-3015
Course Teachers