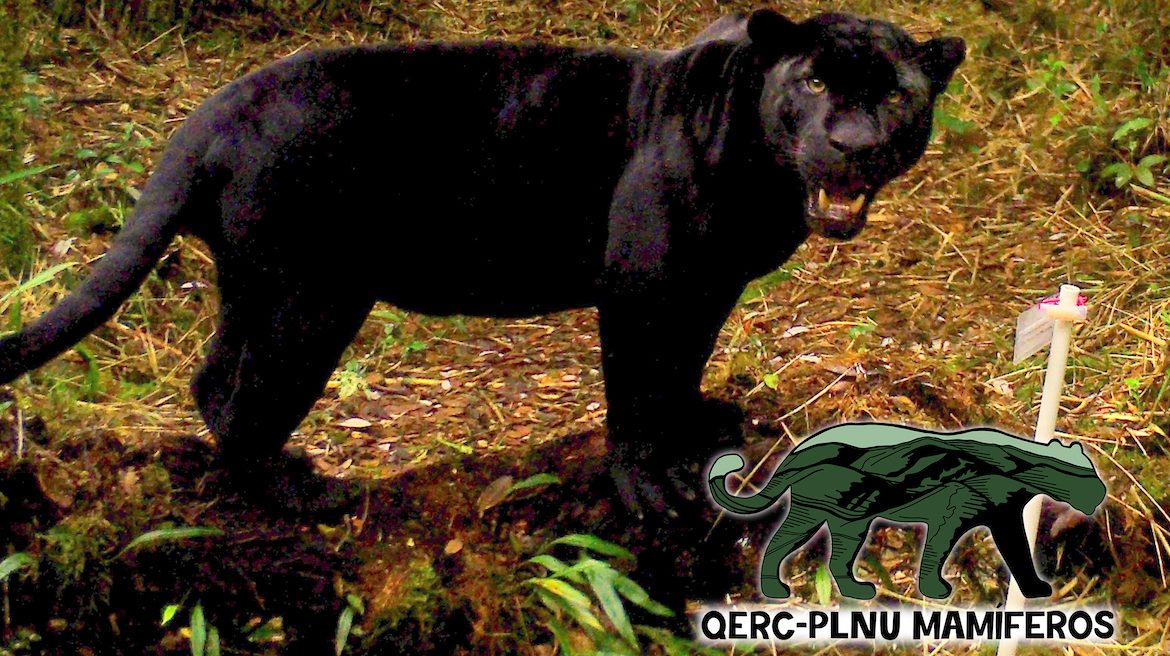 Recent Research Updates
It's time for an update on some of the incredible publications that have come out this last year through our Friends of QERC!
Certainly one project to highlight this year is Dr. Mike Mooring's wildlife camera trap research. If you have visited QERC, you have likely seen images from his research adorning our walls. This year, he and his collaborators published three scientific articles in the peer-reviewed journals Tropical Conservation Science and the Journal of Mammalogy. Formal references are cited below, or you may enjoy reading about the full scope of the project in this Wildlife Society Article: https://wildlife.org/wild-cam-costa-ricas-black-panthers-and-elusive-bush-dogs/ Congratulations Dr. Mooring and PLNU team!
In addition, our collaborators at Olivet published a research note on the expanded elevational range of the piglet flesh-bellied frog that should come out this month in the Herpetological Review. Brendan (QERC field station co-manager) published an article about worshipping in a cloud forest during the pandemic. And if you're curious what the weather is like here at QERC, you can check out a live feed from our rooftop weather station at https://bit.ly/qercclima (thanks Dr. Bruce Hoagland!). We got a lot of rain during Eta and Iota in November – about 750mm over the course of 30 days!
In other news, the Savegre Restaurant has undergone a total renovation and looks absolutely incredible. And Don Efraín spoke at the inauguration of a museum to commemorate Costa Rica's abolition of the army in 1948 (you may have read or heard some of his stories about the 1948 civil war).
Here is a list of references for the articles mentioned in this post:
Sáenz-Bolaños, C., Fuller, T.K., Mooring, M.S., Porras, J., Sievert, P.R., Montalvo, V.H., Carrillo, E. (2019). Bush dogs in Central America: recent range expansion, cryptic distribution, or both? Tropical Conservation Science 12: 1-5. https://doi.org/10.1177/1940082919849758
Mooring, Michael S., Eppert, Amy A., & Botts, Ryan T. (2020). Natural Selection of Melanism in Costa Rican Jaguar and Oncilla: A Test of Gloger's Rule and the Temporal Segregation Hypothesis. Tropical Conservation Science, 13: 1-15. https://journals.sagepub.com/doi/10.1177/1940082920910364
Botts, Ryan T., Eppert, Amy A., Wiegman, Timothy J., Blankenship, Steven R., Rodriguez, Abner, Wagner, Abigail P., Ullrich, Sierra E., Allen, Gabrielle R., Garley, Wyatt M., Asselin, Ellen M., and Mooring, Michael S. (2020). Does Moonlight Increase Predation Risk for Elusive Mammals in Costa Rica? Tropical Conservation Science, 13: 1-21. https://journals.sagepub.com/doi/full/10.1177/1940082920952405
Botts, R. T, Eppert, A. A., Wiegman, Rodriguez, A., T. J., Blankenship, S. R., Asselin, E. M., Garley, W. M., Wagner, A. P., Ullrich, S. E., Allen, G. R., and Mooring, M. S. Circadian activity patterns of mammalian predators and prey in Costa Rica. Journal of Mammalogy 101: 1313–1331. https://doi.org/10.1093/jmammal/gyaa103
Rosenberger, D., D. Henn, T. Senti, N. Troendle. 2020. Craugaster podiciferous (Piglet Flesh-bellied Frog) Elevation. Herpetological Review. 51:814.
Wild Cam: Costa Rica's black panthers and elusive bush dogs
https://wildlife.org/wild-cam-costa-ricas-black-panthers-and-elusive-bush-dogs/
Cathedral of the Tropics and Worshipping through a Pandemic
https://www.redletterchristians.org/cathedral-of-the-tropics-and-worshipping-through-a-pandemic/
QERC Weather Station
https://bit.ly/qercclima